Voilà déjà 3 ans que j'ai intégré la boutique de ScrapbookGraphics ! A cette occasion, profitez de 50% de réduction sur tous mes produits (CU &PU) jusqu'au Dimanche 1er Avril !
* Sauf sur bundles et Grab Bag - Autres coupons de réduction désactivés pendant la promotion.
---
I turn already 3 at ScrapbookGraphics ! Celebrating this with me and take advantage of 50% discount on all my products until Sunday Apr.1, 2012 !
* Excluding Grab Bag and Bundle - Others coupon disabled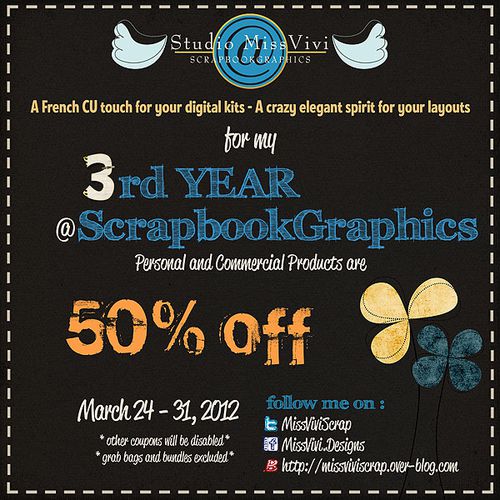 ---
Pour l'occasion, j'ai également ressorti sur ma page facebook un ancien kit que j'avais offert dans une newsletter de DigishopTalk. Pour celles qui ne l'ont pas encore, rendez-vous sur ma page fan ICI

For this events, I share again an old freebie that I gived on a DST newsletter. If you don't have it, go on my Facebook Page to took it !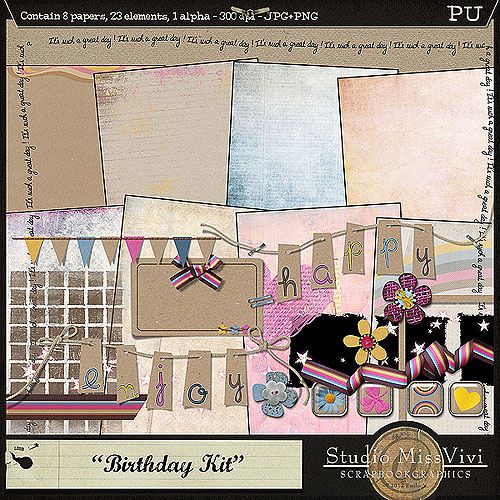 Have an awesome sunny week !




http://shop.scrapbookgraphics.com/MissVivi/
---
DERNIERS PRODUITS EN BOUTIQUE