Every Little Bit Counts : Charity Collab
Il est important de donner un peu de son temps pour des bonnes causes. Mais c'est souvent un défi pour ceux d'entres nous qui ont des longues "to do list" qui ne désemplissent pas ! Mais même si nous sommes très occupés, il est important de se rappeler que dans ces moments, "Chaque petit morceau compte".
Pour démontrer ce principe, nous avons fait appel à la communauté des designers, et demandé à chacun d'entre eux de participer à cette collab en ne faisant qu'un seul élément.
Le résultat donne une collection ecléctique fait d'éléments uniques, allant du style classique à l'excentrique.
Cette collection est disponible seulement jusqu'à la fin du mois de décembre.
100% des bénéfices seront donnés à la Foundation des enfant malades hospitalisés. (Sick Kids Hospital Foundation)
Vous pouvez trouver cette collection ICI pour seulement 5$, et rappeler vous que chaque petit morceau compte !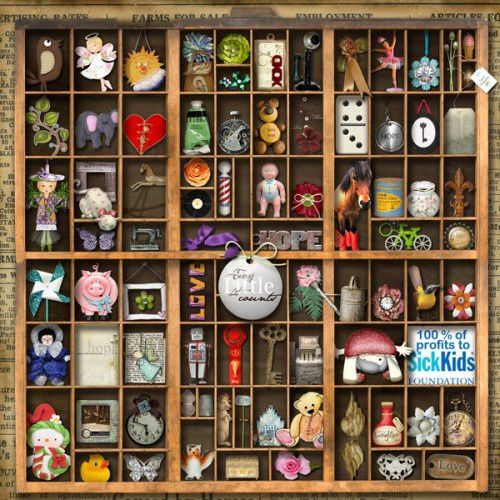 ---
The season of giving, gratitude and joy upon us. It is also often a very busy and hectic time of the year, creating a challenge for those of us with lengthy To-Do lists. However, no matter how busy we all get, it really is important to remember that when it comes to charity, Every Little Bit Counts.
To demonstrate this simple truth, a call went out across the digital community to designers everywhere inviting them each to contribute only one element to a charity collaboration for the Sick Kids Foundation.
The end result is an eclectic collection of unique elements, ranging from classic to quirky and everything in between.
The Every Little Bit Counts collection will only be available until the last week of December. 100% of the profits will then be donated to the Sick Kids Hospital Foundation.
Find out how you can receive this very special collection for only $5 and let your little bit count towards this very worthy cause.
Thank you to :
Shabby Miss Jenn
Dawn Inskip
Hollie Haradon
Lydia Kurniawarti
Tangie Baxter
Nitwit Collections
Amy Wolff
SherrieJD
Kaye Winiecki
Michelle Coleman
Manuella Zimmerman
Armina Designs
Rosey Posey
Laura Basaniak of Simply Scraps
Designs by Doodelle
Amber LaBau of Stolen Moments
Clementine
Jen Ulasiewicz
Flergs
Baersgarten
Studio Gypsy
Irene Alexeeva
Martencja Designs
Valorie Wibbens
Sarah Designs
River Rose
eNKay Design
Trixie Scraps
Mye De Leon
Twin Mom Scraps
Alegna Designs
Gabs
Laurie Anderson of Heaven's Gate Designs
LorieM
Erika of Lara's Digi World

Novita
Miki Ferkul
Micheline Martin
Kari Hentzelt
Danimoy Designs
Project B Designs
Paula Kesselring
Brandi Sutherlin
Birgit Kerr
Craft-astrophic Designs
Phuong Ton
Amanda Rockwell
Cucciola Designs
Kay Miller
Lorie Davison
sussieM
Fayette Terlouw of the Ettes
True Blue
MissVivi
Ztampf!
Tiffany of Inspired by Dominic Designs
Create Wings
Wendyzine Scraps
Christina Renee
Jaya Prem
Jennifer Barette
Kate Hadfield
Allison Pennington
Natali Designs
Lily Designs
Studio Q
Studio Berna
Veronica Spriggs
Charlize Creations
Maya